Grupo Cajamar posts net profit of 24 million euros in first quarter
05 de Mayo, 2023
---
An increase in sales activity and continuing improvements in asset quality help further clean up the balance sheet and bolster provisions, while boosting liquidity.

• Retail customer funds under management have risen by 4.2% year-on-year (YOY) to 48,158 million euros.

• Performing loans to retail customers are up 4.7% at 35,760 million euros, especially new financing to the agri-food sector, companies and households, while the loan book is increasingly diversified.

• The NPL ratio is down 0.7 points at 2.5%, below the sector average.

• The capital ratio has improved by 0.3 percentage points (pp) to 15.8%, with YOY growth in eligible capital of 2% driven by the strength of CET 1 capital. The phased-in CET 1 ratio stands at 13.4%, comfortably surpassing regulatory requirements.
Cajamar headquarters.
Results
Buoyant core banking business revenues in the first quarter of the year fuelled the growth of Grupo Cooperativo Cajamar's recurring margins. This, combined with the continuing improvement in asset quality, has helped further clean up the balance sheet and bolster provisions while boosting liquidity and solvency.

Recurring income statement margins grew in the first quarter of 2023, driven by the core banking business, thanks to the favourable trend in interest rates and the increase in sales activity. Thus, the yield on loans is up 71% YOY, facilitating a 29% increase in interest income to 208 million euros. In addition, the 4.2% growth in net fee and commission income to 70.1 million euros, thanks to increased disintermediation activity and customer loyalty, helps lift the gross income (without net trading income, NTI) by 16.7% compared to the same period of the previous year. This quarter, NTI has fallen by -97.2% compared to the same period a year earlier, given that this income statement item only contributes 3.4 million euros to gross income, taking it to 281.4 million euros. This is -21.5% lower versus the same quarter in the previous year.

The faster growth in income compared to that of expenses has led to a 6.3pp improvement in the recurring efficiency ratio versus the same quarter a year earlier to 55.8%.

The Group's prudent management approach sees it giving priority to allocating much of its income to offset losses on financial and non-financial assets, 68.4 million euros, rather than boosting profits. Therefore, consolidated net profit is down 18.5% compared to the first three months of 2022 at 24 million euros. This is in line with the forecasts for this quarter.

Asset quality thus continues to improve thanks to the successful management of non-performing assets, with the NPL ratio dropping by 0.7 pp to 2.5%, below the industry average. This is due to the YOY reduction in non-performing total risk of -19.4% (231 million euros). Furthermore, most of the non-performing loan book (67.2%) is less than five years old. At the same time, net foreclosed assets are down 184 million euros, or -25.7%, compared to the first quarter of 2022, while the NPL coverage ratio has been brought up to 67.5%, after the haircuts incurred in the foreclosure process.
Sales activity

The increase in sales activity has resulted in YOY growth of 5.6% in total assets, to 62,982 million euros, and an increase in the total volume of business managed, now standing at 99,100 million euros.

Retail customer funds under management are up 4.2% YOY at 48,158 million euros, due to the increase in on- and off-balance sheet customer funds managed. There has been a notable increase in investment funds of 9.9%, compared to the industry average of 4.4%.

Performing loans to retail customers are 1,596 million euros up, or 4.7% higher than in the same period a year earlier, at 35,760 million euros. Grupo Cajamar is a clear leader in the agri-food sector allocating 46% of new business loans to this sector, 33% to SMEs and 21% to large companies.

Strong sales have enabled Grupo Cooperativo Cajamar to grow its share of the investment domestic market to 2.9 % and to 15.9% of the domestic primary sector market (arable and livestock farming and fishing).

Customer service
Grupo Cooperativo Cajamar boasts the second best customer satisfaction score among the Top 10 Spanish financial institutions according to Net Promotor Score. It is also ranks first for satisfaction with managers among its customers according to the Financial Sector Customer Satisfaction Benchmarking prepared by Stiga in the first quarter of 2023.

Over the last 12 months, 108,674 individuals and businesses have started banking with Grupo Cajamar entities, taking the total number of customers to 3.7 million and members to more than 1.6 million. They are served by a workforce of 5,226 professionals at its 842 branches and 174 agencies, over 33% of which are in towns and villages with less than 5,000 inhabitants. Its six mobile branches (itinerant vehicles) also provide financial services in rural areas to 43 towns and villages with between 170 and 1,500 inhabitants. This helps avoid financial exclusion and especially meets the needs of older people.

Furthermore, Grupo Cajamar's digital banking, electronic banking and mobile banking channels plus its 1,500 ATMs are used by more than a million digital customers to carry out their regular transactions. This represents a 7.6% increase YOY. These customers have performed 59 million transactions using the app and 38 million transactions via electronic banking.

Grupo Cooperativo Cajamar's commercial network has taken further steps to improve the service provided to elderly people and people with disabilities, both in person in its branches and agencies and through a toll-free number specifically for these customer groups. In addition, it offers special designs and new media and resources to facilitate access to its electronic banking services, app and ATMs and has launched the Senior Digital School, through which Grupo Cajamar professionals inform and coach these customers in the use of the media and channels through which services are provided and offer them basic cybersecurity advice.

In accordance with its payment flexibility policy, the cooperative bank Cajamar promotes financial solutions for customers who have had or are having temporary difficulties as a result of rises in the cost of living and interest rates, or as a result of the pandemic. At the end of 2022, Banco de Crédito Social Cooperativo and Grupo Cooperativo Cajamar's 18 rural savings banks confirmed their commitment to extending the existing Code of Good Practices and to the new Code of Good Practices on mortgage loans, which are aimed at specific groups of middle-income customers who have been particularly affected by the rise in interest rates.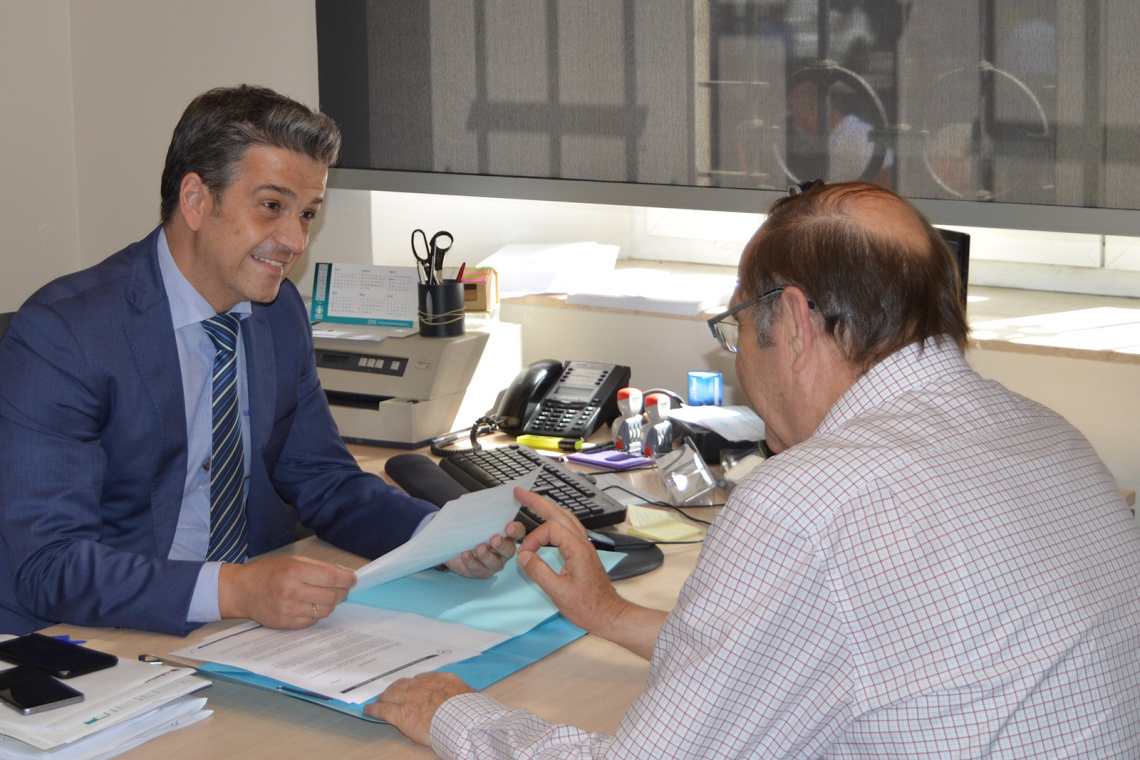 Customer service at a Grupo Cajamar office.
Solvency and liquidity
The capital ratio has improved by 0.3 percentage points (pp) to 15.8%, with YOY growth in eligible capital of 2% of particular note, which has been driven by the strength of CET 1 capital. The phased-in CET 1 ratio stands at 13.4%, comfortably surpassing regulatory requirements, with a 686 million euros surplus over and above the fully-loaded capital ratio.

The MREL ratio has improved by 2.3 pp to 20.4%, 1.6 pp higher than the interim target set by the corresponding regulator for 1 January 2023.

Two placements of mortgage covered bonds were completed in the first quarter of 2023 totalling 1,100 million euros and the organisation has comfortable liquidity levels, with available liquid assets totalling 13,774 million euros, including both high-quality liquid assets (HQLA) and other discountable liquid assets and central bank deposits. It also has mortgage covered bond issuance capacity of 2,598 million euros. All of this also sees the Group easily complying with the regulatory limits set, with a liquidity coverage ratio (LCR) of 185.2% and a net stable funding ratio (NSFR) of 134.4%.

The cooperative bank Cajamar is also steadily deleveraging the TLTRO financing from the European Central Bank (ECB), having slashed it by 42.3% YOY to 6,015 million euros.

Sustainable finances
In the first quarter of the year, the cooperative bank Cajamar was awarded an 'A' rating by CDP at the CDP Europe Awards for its leadership in corporate transparency and climate change mitigation performance. This same organisation, which is a global leader in processes and methods for corporate and climate change disclosures, highlighted Grupo Cajamar in its 'Supplier Engagement Leaderboard' report as one of 288 companies receiving an 'A' grade out of more than 15,000 evaluated. Grupo Cajamar published its 2022 Sustainability Report in the first quarter, which covers transparency and management.

Sustainability is one of the key, enterprise-wide objectives pursued by Grupo Cajamar, whose strategy is oriented towards driving the creation of shared value in the short, medium and longer term; among other measures, it is carrying out an assessment of financial exposure to environmental risk. At year-end 2022, 21.95% of the Group's loan book is associated with environmental mitigation activities and adaptation activities. The Group has also adopted intermediate decarbonisation targets in line with the Science Based Targets initiative, to achieve the goal of net zero greenhouse gas emissions from its activities by 2050.

Cooperative bank Cajamar unveiled its 'Bosque Cajamar - Mar de oxígeno' (Cajamar Forest - Oxygen Sea) project in February and March, which involves the reforestation of 27.54 hectares of the Sierra María-Los Vélez Natural Park in partnership with the Andalusian government's Sustainability, Environment and Blue Economy Department and the Natural Park Division. This environmental action contributes to curbing climate change and enhancing biodiversity by reintroducing indigenous species adapted to the habitat. It will also help improve the ecological, landscape and tourist features of the natural park, meeting the environmental and social needs of the area and boosting economic activity in a rural area at risk of depopulation.

Grupo Cooperativo Cajamar has further increased and tailored its offering of specialised financial products and services for the agri-food sector, as well as the specialised technical advice and knowledge transfer programmes for businesses, cooperatives and producers. In doing so, it is helping to improve the competitiveness of, finance to and information management in the Spanish agri-food sector.

Through the Plataforma Tierra it promotes and drives actions aimed at innovation, digitalisation and sustainability in the agri-food sector through 116 publications and 10 market reports. At the same time, it transfers knowledge by disseminating research, studies and trials at its experimental centres in Almeria and Valencia, and through the 25 face-to-face courses, online training, webinars and training programmes delivered in the first quarter of the year.

The Cajamar Innova high-tech water business incubator continues to support innovative companies and start-ups, with the aim of making projects that deliver effective water resource management solutions viable. To date, 157 initiatives have benefited.

Cajamar is also present at trade fairs and events, accompanying agri-food companies to help them promote themselves and expand in Spain and abroad. It has participated in organising business forums and meetings, giving greater visibility to the challenges facing Spanish companies and the opportunities the Next Generation European funds offer them to modernise and innovate their businesses.